Friday I went to the Avicii concert with a few friends and it was the first time I had any booze in a month! We started the night at a tapas restaurant for some happy hour dinner and sangria specials. Everything was delicious. After dinner we headed to a friends house for some pre-concert beverages and hang time. The actual concert was awesome and we had a good time dancing around. The bathroom mobs lines were less than desirable and a total time suck. The metro was of course having maintenance work done so it took some trickery, shuttle buses, and finally the metro to make it home.
Saturday morning Sasha had training per usual. My body post booze was begging for some junk food (as was the boys) so we feasted on some drive thru (gross). We then proceeded to nap for a few hours, eat MORE gross drive thru (lets not talk about it), and then I headed home for the evening to catch up on some TV shows and get some sleep in hopes that I would still be able to run on Sunday with out dying. I also made some pretty amazing healthy "ice cream". The only things in this little dessert are frozen bananas, some figs, homemade chocolate, and unsweetened almond milk.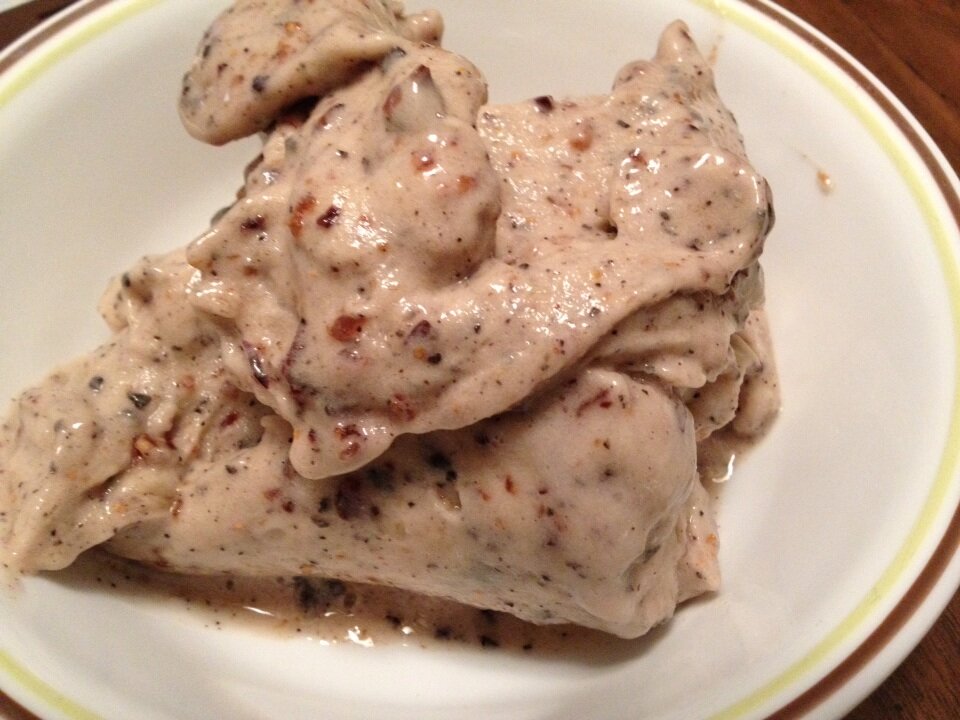 Sunday I embarked on a planned 12 mile run with a route and everything. I am not sure why I thought I would be able to successfully follow the route though because I am directionally impaired. I ALWAYS run out and backs because a loop route leaves room for getting lost, heck I can get lost on out and back routes too. I couldn't find the bridge back to Virginia from the District and started to get a little panicky because I was going to brunch for a friends bday and knew if I kept running for too long there was no way I'd make it on time. I eventually found the bridge and ended up making it home in 13.1 miles. My total time was 1:57! That is 2 minutes slower than my actually half marathon race from last year. The goal for the half in March is 1:50 and I definitely think that is going to be possible now. I felt great at the end and at no point felt like I was pushing that hard. If I were trying AND in a race environment I have no doubt I could speed that up to where I want to be. The temperature when I set out to run was hanging at a cool "Feels like 22F" and the ground was quite icy. Yuck. I decided to try out a new running outfit to keep warm and it was a great success. I thought it would be fun to document the layers so I made this really high quality "how to bundle up like a boss" photo collage. My outfit, from inner layer to outer layer, included: Tall soccer socks (my legs felt awesome and I am wonder if it was because the socks are tight and working like compression sleeves, I plan to keep wearing them), mid thigh running shorts, sports bra, dry fit tank, full length leggings, long sleeve turtle neck (this is actually polo not running clothing but I never wear it and it worked perfectly), running jacket, head band, cotton gloves, and finally wind resistant gloves. I was snug as a bug and stayed perfectly warm and dry the entire run! I was hot towards the end but that is bound to happen.
After the run I quickly showered and headed into the city for my friends birthday brunch. Not too many pictures were taken but I of course put them into a nice little app on my phone and created a collage (after seeing the app collages vs picmonkey I think I like picmonkey better).
Sunday was quite the busy day, after running and brunching I had to head to the grocery store to buy a few things and cook some noms for our super bowl party. I made soy sauce meatballs and paleo chocolate chip cookies. I went with Alyssa's cookie recipe and I thought they tasted pretty yummy. I am on the fence with how I feel about the homemade chocolate in the cookies because it just melted and looked like brown soup. Still tasted good!
That sums up my weekend and week 4 of training for the DC Rock n Roll Half!
Week 4: 26.1 Miles
Mon
Jan 28
Rest / XT

60 Min Yoga DONE
Tue
Jan 29
Easy Run
Dist: 3 Mi @ 8:58, Core, & Soccer DONE

Wed
Jan 30
Rest / XT
1 mile @ 9, Upper Body DONE
Thu
Jan 31
Tempo Run

Dist: 6 Mi, inc Warm; 4 miles @ 8:25; Cool DONE

Fri
Feb 1
Easy Run
Dist: 3 Mi @ 10:01

DONE

Sat
Feb 2
XT / Rest
Sun
Feb 3
Long Run
Dist: 13.1 Mi @ 8:55 DONE
Week 5 looks kind of boringgggg. I have a feeling that I will end up running more than what is suggested this week. I had planned on running after work today and probably still will just to get my legs moving after the long run yesterday. I am oddly sad that there is no long run scheduled for the weekend and will probably do a mid-long run anyways. Watch out – I'm a rebel!
Week 5: 19 Miles
Mon
Feb 4
Rest / XT

Tue
Feb 5
Easy Run
Dist: 4 Mi @ 10:00 & Soccer

Wed
Feb 6
Easy Run

Dist: 4 Mi @ 10:00
Thu
Feb 7
Easy Run


Dist: 

4 Mi @ 10:00

Fri
Feb 8
Easy Run
Dist: 3 Mi @ 10:00
Sat
Feb 9
Rest / XT

Sun
Feb 10
Easy Run
Dist: 4 Mi @ 10:00
This post is getting super long but bare with me. Just a few more things! 1) It is Monday, which means I weighed myself. My scale is claiming that I have magically put on 9lbs since Friday! How exciting is that? I don't really believe it and am blaming it on water retention caused by drinking, eating crappy food this weekend, and mother nature making her monthly appearance. I am not going to stress out about it because I know it is physically impossible to gain 9lbs of fat or muscle in 2 days. I'm sure by next Monday a normal number will surface. 2) January was a sobriety month and I passed with flying colors, as February rolls into full swing a new challenge has surfaced. Brennan and I are not always the best influences on one another so we decided to a 100% (booze aside – I honestly won't be drinking much at all) paleo month. Seeing as we don't live together we are going to check in just to make sure we are both staying on track. We are both looking forward to not having some one try to test our will power. It always happens that one of us will be craving nonsense and eventually wear the other person down to agree (who likes eating alone?!). It will be nice to have a month that we can both focus on clean eating and being good influences on each other! I'm sure by the end of the month Bren will have gained like 10 lbs in muscle and have a banging six pack, while I will probably lose a few lbs but nothing earth shattering. I promise to only give him a high five and not get jealous. For this month I'm going to try to add a little blurb at the end of my morning posts to sum up ALL the food I had just to give an idea of a full paleo day.
Morning Questions
Q: Do you ever do mini challenges? Do you prefer to do them solo or with a friend?
Q: What are your thoughts on my scales rebellion this morning? Has that ever happened to you?
Q: What did you do this weekend? Anything fun? Send me a link if you happened to have recapped!
---
---
Categories: Half Marathon Training, Random Musings